or, The Cat In The Hat
1973, found me in Colne, a small town in East Lancashire. The Manchester of the early Seventies had taken its toll, and a lot of my friends had either had returned back to Straightdom, or had gone so far out they had forgotten how to get back.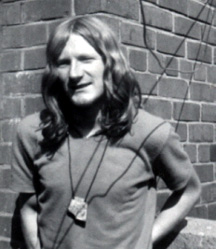 About that time the mills were closing down and a lot of families were moving to the cities to find work, leaving lots of empty properties. At the same time hippies were getting worn down by the city, and by word of mouth Colne got a name as a place for hippies to rest their weary heads. Finding Colne came just in time for me. From paying £9 a week for a room, I was suddenly paying £6 a week for a furnished house, and it was surrounded by fields as well.

About that time, a book came out called 'Alternative Britain', and Colne had a section in it. The locals were very friendly, and I became quite good at darts, but it was becoming too popular. I remember one night 'The Hole in the Wall' pub, which had been specifically mentioned in 'Alternative Britain', being completely full of 'alternatives', drinking half pints of beer, with 'eyes like saucers', and locals just taking one look in and leaving. People were arriving daily with sleeping bags on their backs asking if this was 'the Colne'. Eventually we were sending them away saying, 'No you must be thinking of 'Colne Valley'.

Colne's hippie scene was thriving by 1973, and I was just glad it was still happening, because I was hearing from the 'outside world' that hippies were 'out'. In Colne there were gatherings in people's houses most nights, and we would all talk of what we had done to bring us to this particular spot in time and space.

My Meeting with Captain Beefheart was my top story by a considerable way. There was the time that I had seen 'Jethro Tull' at the 'Magic Village'. I had enthused to Mick Abrams and Ian Anderson about how good they were. 'You are the best group that I have ever seen'.
'We have a recording contract. There will be a record coming out in a couple of months'. It was Mick Abrams twenty-fifth birthday and Ian Anderson announced it during the gig. I remember thinking, 'Wow he is still making music like that, at his age'. Compared with my 'Beefheart Story' my 'Jethro Tull Story' was like Plonk to Champagne, and anybody that I had spent any time with knew about my 'Meeting with Beefheart at Bickershaw'.

In 1973 Beefheart toured Britain, and we in Colne knew that he was appearing at the 'Free Trade Hall, Manchester', and the more together of our number hired a minibus for the night of the gig. There was a 'Magical Mystery Tour' feel about it as we set off to Manchester, which was enhanced by the last of the 'Hash Oil' that I had saved, especially, for the evening. As we travelled down I began to worry. I wondered if these people expected Beefheart to greet me like a long lost friend. My friend Jake, who I shared a house with, had already asked me to invite Beefheart back. I had started to think, 'Did it really happen?'. It had been such a bizzarre occurrence, and my grasp of reality, over the past few years, had been only transitory at best. What is real and what is not? Nothing is real, so my Meeting with Beefheart was as real as anything else that had happened. So it was my head mulled over the situation as we made our way down to Manchester.

The Free Trade Hall was a three tier venue, and you could finish up in the 'Gods' and need binoculars to see what was going on, but we had managed to secure a block of tickets near the front, downstairs. The concert itself was unbelievable. 'He played a lot off the 'The Spotlight Kid' and 'Clear Spot'. All to soon, he said,
'Come on everybody get up. Get up. Get up!
I was up and at the front, I didn't need his second and third urging, and the band started up with 'Big Eyed Beans from Venus'.

Yes, we are his 'Distant Cousins' 'Boys and Girls, Earth People around the Circle'. The Free Trade Hall is going take off and we are going to leave this planet behind.
Yes. Yes. Yes!
And then suddenly, it was over. Beefheart came back on stage to say goodbye to the audience, for the last time, and I suddenly thought, 'That is it. We are going to set off for home now and I am going to loose some points with the Colne people'.

When we had left Colne I had put on my 'extra special' clothes. My prize possession in the clothes line was this leather motorbike cap, which I only brought out for special occasions, it made me feel good and made me look suitably weird at times like this. Beefheart was waving his last goodbye to the audience. I summoned up all my power, took my 'prize hat' off and slung it in Beefheart's direction. I could see it flying towards him in slow motion, and it splatted him in the face. He gave a surprised smile and then disappeared, stage right. The roadies' started to pack the speakers away and I thought 'it's over.' There were fewer people about now, and I remember one guy next to me shouting 'More. More. More.', long after everyone else had stopped, and thinking to myself 'Shut up, man, he isn't going to come back now'.

I remembered about my 'prize hat' and shouted to one of the roadies, asking if he would get it for me. He did, and when he was handing it to me, I said, 'I met Captain Beefheart at Bickershaw, last year, and I would really like to see him again'.
'If you want to see him, why not 'jump up'.
The stage at The Free Trade Hall is about six foot above the audience, and you would think that it is impossible to 'jump up', but I appeared to float up onto the stage, and set off in the direction that Beefheart had gone, five minutes before.

I soon realised that the stage was only the first obstacle I would have to negotiate if I was going to get to see Beefheart. The Free Trade Hall had as many Classical Concerts as Rock Concerts in those days. The staff looked as though they had been working there for several years, and wore a very traditional uniform, not quite Beefeater, but that sort of style. Now I was confronted by a row of Security men with arms linked together, stopping me, (and a few others, who had ventured this far), getting any further. I waited, trying to figure out what to do next.

When I was at school there were just two of us that had what I would call long hair, me and Taylor. When I finished school, I never saw him again, until this moment. There was Taylor walking along a corridor on the other side of the line of security men.
'Tats!'
He shouted back 'Charlie!', and I was let through the cordon. I talked with Tats for about thirty seconds and have never seen him again. I don't remember anything that was said because any conversation was obliterated by me thinking to myself, 'I am through. I am through. I am through.' I left Tats and set off along a maze corridors hoping for the best. I hadn't been searching for long when I heard an unmistakable voice, and saw Beefheart through an open door. I went into the room where he was. He looked at me and you could see that he was searching his memory banks. He recognised the face, but he was trying to put a time and place to it, then he said one word, 'Bickershaw', and with relief I said 'Yes'.

'You were really out of it that night. I gave you a bottle of water to try to dilute whatever you had taken. Would you like a copy of our latest album?'
I already had it, but I said 'Yes'. He shouted to somebody, 'Have we got a copy of 'Clear Spot', for this cat.?' There wasn't a record in the room. 'Could you go down and get one?'
I made a half- hearted attempt to say, 'Don't go to so much trouble' but was overruled and the guy set off. I didn't know whether he was going down to the bus to get it, and I didn't care. When I had met Beefheart at Bickershaw, I had been too 'out of it' to appreciate the awesomeness of the occasion. Now I was going to get some quality time with the man himself. While I was thinking of what to say, the guy who had been shouting for 'More' long after everybody else had given up arrived, and started to hog Beefheart. He could hardly get his words out, but Beefheart politely listened to him, as if what he was saying was of the greatest importance. I was quietly fuming, because this guy was spoiling my 'quality time' with Beefheart.

The guy who had gone for the record returned, and Beefheart asked me, 'Do you want a dedication?'
I said 'Yes'.
'What would you like me to put?'
After a little while I spluttered out, 'To Charlie. From the Spotlight Lad (As he was known in my circle of friends). Donny Van Vliet'.
He put the word 'Lite' twice. 'Do you want me to dedicate it to anybody?'
At the time I was madly in love with a Norwegian girl, called Inger, so I said 'Dedicated to Inger'. He misheard me and put 'Dedicated to England', so I said 'No Inger' and he put 'Inger', but he spelt it Enger and then added D.V.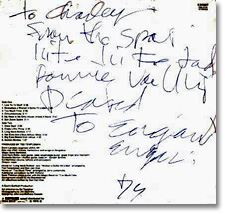 He asked me if I was going to see him at 'The Albert Hall'. People who live in America think that to travel from Manchester to London is just a short trip, but to me it seemed a long distance, the length of the country. He said that he would meet me outside the side entrance and would give me a ticket. By now I was getting worried that the minibus would set off to Colne without me, so I said my goodbyes, left him talking to the guy who was off his head, and made my way to where it was parked, clutching my momento of the occasion.

On the bus back I felt vindicated as I told the minibus about my adventures. I even had my proof with the dedicated cover of Clear Spot. By the time we had got back to Colne, Jake had already planned our trip to London for the gig. At the time I was working at a factory and was on my final, final, final warning for absence and bad time keeping. When I asked for time off to go and see Beefheart, I was told, 'You must be joking'. So I worked up until a couple of days before the Albert Hall gig, and handed in my notice. It is better to jump than be pushed.

Jake and I hitch hiked down to London the day before the gig, slept in field near Hemel Hempstead, and got into London early the next day. We found the Albert Hall and circumnavigated the building looking for side entrances. Having found a side door that looked quite hopeful, we camped outside, hoping Beefheart would turn up. We waited for hours, and just when I was thinking, 'maybe this is a bad idea after all', Beefheart and his entourage arrived. As I approached him he said, 'You made it' and fumbled in his pocket and gave me a ticket. He then went through the side door. Then I thought about Jake. Beefheart had only given me one ticket so I started to bang on the door, shouting like Dustin Hoffman in 'The Graduate'. Eventually somebody answered the door and I explained how I had travelled down from Lancashire, Captain Beefheart had only given me one ticket and I was with a friend. Through the gap in the door I could see Beefheart searching for another ticket. He found one and it was passed through to me.

Jake and I watched the gig. Beefheart complained all night about the acoustics, but we thought it was great.

I saw the Magic Band one more time that year, at Bradford University. Bradford is as close to Colne as Manchester, so we hired another minibus. I think that concert was the most enjoyable. The venue was small. It was full, but I don't think there was above 400 people there. The stage was almost level with the audience. The chairs weren't static and were moved, very early on, so people were dancing, almost from the first number.

What do I think now, about my Beefheart experiences of that year? I used to be embarrassed when I looked back at my mercenary behaviour. The way that I thought of the guy who asked for 'More', because he behaved just the same as me at Bickershaw, and, at the time, I wasn't aware enough to realise it. Now I see that my bad behaviour only highlighted Beefheart's good behaviour. He gave me his time and understanding at Bickershaw, and he gave the guy who asked for 'More' his time and understanding at the Free Trade Hall. I am glad that he gave me a dedicated copy of Clear Spot though, I know that Dedication doesn't make any sense without an explanation, but it helps convince me that my Meetings with Beefheart did happen, now that I enter my dotage.

TO CHARLEY
FROM THE SPOT
LITE LITE LAD
DONNY VAN VLIET
DCATED
TO ENGLAND
ENGER;
DV

Thank you, Don.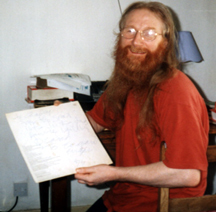 Charlie Gee 2000

::::::